Do you ever roast chicken? What do you do with the backbone and ribs after you carve that roast chicken? If you throw them away, boy do I have a bone to pick with you! Save those bones from your carved chickens and make this big ole pot of chicken stock!
What's the difference between chicken broth and chicken stock? They're interchangeable in recipes, so why two different names for the same thing? Well, they actually are a bit different….
Broth is made by simmering meat in water, which can then be eaten or used in another recipe.
Stock is the product of simmering the bones in water…which is great, I love using every part of the bird!
I like to buy my chicken whole and roast it. After I carve my chicken (or turkey), I'm left with the neck, back and ribs which I freeze until I'm ready to make a big pot of stock. Making the stock myself is easy and it's so much better than the store-bought stuff. Not only is it less expensive, but I can control the salt and the overall flavor with the mix of vegetables and herbs I use.
EAT YOUR WORDS EP. 2 | HISTORY BEHIND THE FOOD IDIOM BONE TO PICK + CHICKEN STOCK RECIPE
Chicken stock is great to cook your rice in, to make gravy with, in a quick pan sauce and of course as a base for many soups! I also cook my favorite spicy pinto beans in this stock!
Here's how I do up my chicken stock…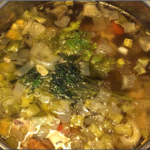 Chicken Stock
Use this stock as a base for your soups, to cook your rice, in sauces and gravy. Portion and freeze it so you always have some on hand!
Ingredients
5 - 6

lbs

chicken bones

I use the backs and breast bones left from my roasted chickens

cold water

enough to cover the bones by about 2"

3

cups

celery

chopped

3

cups

carrots

chopped

3

cups

onions

chopped

2

leeks

chopped

2

tsp

peppercorns

2

bay leaves

1

small bunch fresh parsley

1

small bunch celery leaves
Instructions
Place the bones in a stock pot

Cover the bones with cold water

Bring to a simmer over medium heat

Chop the celery, carrots, onions and leeks into about 1/2" pieces

Allow the stock to simmer about 30 minutes, skimming the surface occassionally

Add the celery, carrots, onions and leeks

Simmer 1 hour or so, skimming the surface as needed

Add the peppercorns, bay leaves, parsley and celery leaves

Simmer another 30 minutes

Skim the surface again to remove as much fat as possible

Remove the large solids from the stock and then strain