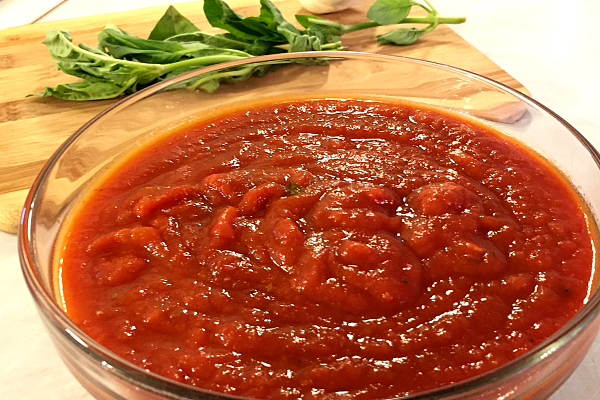 Yup, that's right…homemade marinara sauce and it's super easy to put together!
This is my go to sauce when I make pasta or meatballs or chicken parmesan. It's really simple and rather quick. Because I keep canned tomatoes in the pantry, this is something that I whip up often! You can add whichever herbs you like, make it as garlicky or spicy or tame as you want. I like mine with lots of garlic and some basil.
This is how I like to do up my marinara sauce…
MARINARA SAUCE RECIPE | GIMMME A MINUTE EP. 5
Easy Homemade Marinara Sauce
Ingredients
2

tablespoons

olive oil

1/2

onion

chopped

6

garlic cloves

sliced thin

1

teaspoon

dried oregano

1/4

teaspoon

red pepper flakes

1 28

oz

can of crushed tomatoes

1 15

oz

can tomato sauce

1/2

teaspoon

salt

4

basil leaves

1

teaspoon

balsamic vinegar
Instructions
Heat the olive oil in large pan

Add the onion, garlic, oregano, red pepper and cook until onions soften and garlic is fragrant

Add the crushed tomatoes, tomato sauce and salt

Tear the basil leaves and add them to the sauce

Cover and simmer 35 - 45 minutes

Remove from heat and stir in the balsamic vinegar

Enjoy!